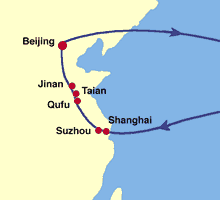 In March, I went on the Historic China Tour through China Focus Travel. We visited 6 Cities, starting with Shanghai and working our way up the country to Beijing.
To Quote their web site:
Our Historic China Tour is a superb introduction to both ancient and modern China. The itinerary includes Suzhou, known as the "Venice of the Orient" for its crisscrossing network of canals, as well as Qufu, the hometown of Confucius. Also included is a stay in Tai'an, at the foot of sacred Mt. Tai, and a visit to Ji'nan, the "City of Springs". In these cities, the vast history of China and Chinese culture will be apparent all around you. Contrast these experiences with adventures in the cosmopolitan cities of Shanghai and Beijing, where ancient and modern are both integral aspects of each city's identity.